Lisa Brokop: Legendary Ladies of Country
Lisa Brokop: Legendary Ladies of Country
Richardson GMP Music Series Presented by River Run Centre:
Featuring Patricia Conroy and Amanda Wilkinson
Photo: Erick Anderson Photography (Main)
Lisa Brokop invites Canadian country artists Patricia Conroy and Amanda Wilkinson to join her on stage in Legendary Ladies of Country.
Featuring beloved songs by famous female singers, Lisa, Patricia and Amanda will share stories about what the legendary artists and songs mean to them, along with some of their own original compositions.
"Brokop's notable music career has spanned over two decades and garnered her a string of CCMA trophies and nominations from the Academy of Country Music." – The Guardian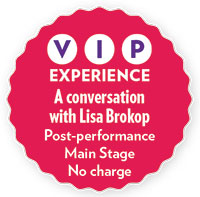 VIP Experience
A Conversation with Lisa Brokop
Post-performance
Main Stage
No Charge
Everyone must have a ticket, including infants and children.
eyeGO and uGO prices not available online – call the Box Office to order.